Lac La Croix First Nation Website
| | |
| --- | --- |
| Welcome to The Lac La Croix First Nation Website | |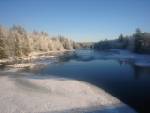 Our Community:
Lac La Croix which translated means "The Lake of the Cross" in the french language originated from the Department of Indian and Northern Affairs Canada. However, to the Ojibway people, it is traditionally known as Zhingwaako Zaaga'igan meaning "Lake of the Pines". Zhingwaako Zaaga'igan "Lake of the Pines", is made in reference to the pines that surround the lake and are believed to provide protection to the community. To the Anishinabe people, the pine plays a significant role in the overall cultural practices, especially during times of harvesting fish and game for spring and fall feasts. This traditional process also includes honoring the spirits and the spiritual connection of Zhingwaako Zaaga'igan with expressions of gratitude and respect for the protection they provide.
Historically, the forests were once dense with a limitless amount of pine and the respected elders of the community considered the lake and it's natural environment as sacred to their people. The Anishinabe people of Zhingwaako Zaaga'igan continue to be guided by the inherent cultural practices and values passed on through many generations. To this day, they continue to maintain a spiritual connection and belief in the preservation of the natural environment.
Lac La Croix First Nation is an Anishinabe community with a membership of 400+ people with approximately 300 persons residing in the community. it is located in Northwestern Ontario, approximately 95 km east of Fort Frances. Access to the community is by Flanders Road, an 80 km long all-weather road accessed by Highway 11, approximately 40 km west of Atikokan. The community is affiliated with Grand Council Treaty # 3 within Treaty # 3 territory.
Last Updated on Thursday, 15 April 2010 14:36